IGNITE YOUR CAREER
FREE AUDIO TRAINING & WORKBOOK 
Ready To Create The Life & Career of Your Dreams?
Here Are The Right Tools & Guidance To Make That Happen ...
My Best-Selling "Ignite Your Career" 9+ Hour Audio Training Series Is Your Secret Weapon …
And I Am So Committed To YOUR  Success That I Am Giving It You For FREE!!
PLUS... I'm even giving you my personal notes to make this as simple as possible for you! 
Are you just flat out sick and tired of the daily GRIND? The never-ending hustle and bustle? The frustration of TRYING to build a career as well as increase your income... all at the same time?
Does it feel like the harder you try, the more you do, the faster your wheels spin but NOTHING is moving?
Do you keep hitting one dead end after another?
It just stinks! I know. I've been there.
Well I have some good news for you. A few years ago, I created a VERY powerful  training series to help my clients stand head and shoulders above everyone else in a totally over crowded job marketplace… It worked like gang-busters for them and if you are serious and you do the work it will work for you, too!
My sharing this training series with you, free of charge, is one of the ways I give back to help those who aren't in a position to invest in private coaching at the moment. 
Truthfully, if it wasn't for the hundreds of clients I've worked with over the past 7 years, I wouldn't be here today encouraging YOU to do your very best. My clients are what makes Marketing with Courtney so unique. They inspire me and teach me something new each and every day. And, it's my hope that this free training helps you, so-much-so that you'll stick with me and eventually become one of my private clients, too!
My Gift To You...
"Ignite Your Career – 10 Timeless Lessons To Help You
Stand Out In An Over Crowded Marketplace"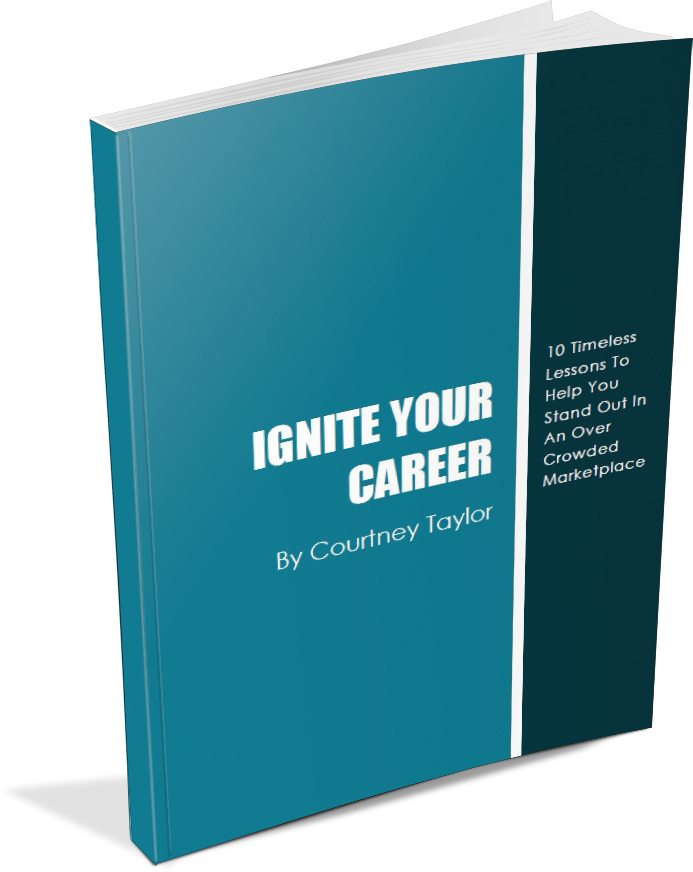 "Ignite Your Career" is filled with over 9 hours of audio training and more than 40 pages of actionable content. Content that no one else is talking about! You will learn how to BULLETPROOF your:
Your Career
Your Lifestyle
Your Relationships
Your Income
Your Faith
And so much more…
I've put together 10 business & life changing calls for you in this training series. All the MP3 recordings plus my very own personal notes for you to follow along with.
By giving you exclusive access to my notes, I've made the learning process super simple for you. You can just sit back, relax, and hit play without having to worry about taking notes because it's already done for you. It really can't be any simpler. Just follow the directions, apply the information, go step-by-step so you can finally get the results you've been longing for.
Something to remember, repetition is the key to success! You're going to want to listen to these recordings and read the content again and again.
As a matter of fact, if you know someone right now who is struggling with the topics that are covered in this training series, why not refer this training to them? If you've gotten results from plugging into my coaching, then why not bless someone else, too? Remember the key to success is to share your keys to success with others, too!
I wanted to take a minute to say THANK YOU to Courtney! She provided so much information and really gave great advise when the job search was getting frustrating and seemed like nothing is going my way.

After completing my MBA in August 2010, I was laid off in early 2011 which lasted for 6 months. Then in May of 2012 I was laid off again!! This was the complete opposite of why I wanted the MBA – it felt like all of the hard work in school lead me nowhere.

So I started working with Courtney and after 9 weeks, countless interviews and 3 (yes 3!!) offers, I accepted my dream job. I also found out from the recruiter I was working with that I was chosen out of 30-40 other candidates.

Courtney gave me the tools I needed to win them over during the interview process, what to say at the end of the interview to close the deal, what to say in my thank you notes, and what to say during the follow-ups. The company is great, my boss is great, the benefits are the best I have ever had and the salary is the highest I have ever had. In fact, I am making more money than the original salary range provided to the recruiter.

I would not be writing this review if I did not truly believe in Courtney's teachings and know first hand that they work. Thank you again Courtney, I couldn't have done it without you!

Julie H
I would like to give a sincere THANK YOU for providing me (literally) last second interview coaching that helped me receive a job offer after having over 10 interviews and not receiving an offer.

Courtney provided me with several tips and talking points that helped me convey a message of being a likeable person who would fit in great with the company. She is compassionate, patient, and committed to helping her clients.

Garrick Wong
More Comments From Our Clients
Courtney Taylor is a highly qualified enthusiastic Career Coach who knows her craft and I highly recommend if you are in the process of looking for a new career opportunity.
Ms. Taylor has guided me along the way advising me how to get past my physical limitations as well as my previous approach to only applying for jobs online without connecting with the human on the other end.
She has taught me viable information how to connect with people through LinkedIn for example and getting your foot in the door past the recruiters. Whether you have 1 year or 20+ years of employment experience and needing a leg up guiding you while you're searching for a new career venture without hesitation contact Courtney Taylor. --Andrew B
I just wanted say that I have been very satisfied with the services you have provided for me so far. I would highly recommend your services to anyone that needs a professional resume done for them. --Thanks Again, Sandy
My name is Ellen Knutsen and I am a marketing professional seeking employment in the Marketing/ Sales industry. Through LinkedIn I have connected with Ms. Courtney Taylor.
As many of you already know, looking for work is a full time job! I reached out to Ms Taylor to help make revisions to my existing resume. Ms. Taylor helped me organize, quantify and present my unique value in the industry .
There are many professionals out there that charge a bundle of money and feed you promises. This is what sets Ms Taylor aside from all of the rest she really cares about you and your future. Ms. Taylor focuses on your individual qualities and where your contributions are recognized. I would highly recommend Ms. Taylor's experience and services. --Sincerely, Ellen Knutsen