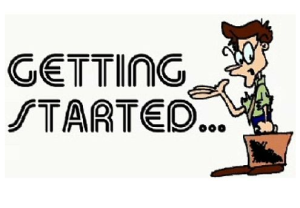 I often encounter individuals who want to go into a new industry, work for a different company, or start their own business. They have wonderful ideas, yet they don't know how to get started. They feel lost and confused not knowing which road to go down.

The good news is that on Tuesday June 12th, 2012 7pm EST I will be talking about how to get started. How to get into the company you've always wanted to get into, build the business of your dreams, and the actions you must take to get there.
Many are under the misconception that you need thousands of dollars to start your own business. Others believe you need to know someone in higher management to get into the company you've been trying to for years. I'm going to re-program your mind and deliver you the skills to get to where you want to go in life.
It's not hard. The reason you haven't accomplished what you want is because of your lack of skills. It's just like when you were a kid and your parents took off your training wheels for the first time. You where scared that you might fall and skin your knee, but once you learned how to balance yourself you fearlessly rode as fast as you could. It's the same thing in learning how to live out the life you've been called to live. Once you get these key skills and learn how to apply them, the opportunities are endless.
I look forward to hearing your beautiful voice and learning more about who you are on Tuesday night. Not to mention I'm giving away a complimentary gift that you don't want to miss. I'm in the spirit of giving this month, but you must be live on the call and stay on from beginning to end. This may mean a complimentary chance to work with me one on one. You never know what mood I'm in and how generous I will be. Don't miss your shot at something worth getting your hands on.
Call into this number at 7-pm EST on Tuesday June 12th, 2012 530-881-1300 pin 442299
YOU MAY ENJOY THESE POSTS AS WELL ...