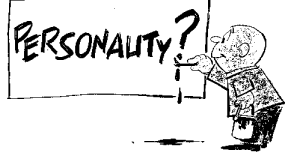 Personality Differences


How often do you come across people in your everyday life that you just don't
know how to deal with? Their personality just is enough to make you go nuts. One
more minute with this person and steam comes out of your ears and you end up in
an argument. Sound familiar? I'm sure you've come across these type of people
who put you down and tell you that your not good enough as well. There're always
saying something negative to upset you.

Well I can tell you I have a solution to this problem and how to deal with
different personalities.  All you have to do is plug into Tues June 19th 2012
7pm EST complimentary conference call where I will be targeting personality
types and how to handle those around you.  I will be going over what to look for
and pin point when dealing
with certain types of challenging personalities.

I will be giving away a complimentary gift at the end of the call. You must be
live on the call and stay on from start to finish in order to receive this
special one time offer.

 I look forward to hearing your wonderful voice and getting to know who you are.
Come join me Tues night 7pm EST here call in number-  530-881-1300 pinn 442299

See you on the call,
Coach Courtney


Www.marketin

gwithcourtney.com
203-441-5327

YOU MAY ENJOY THESE POSTS AS WELL ...