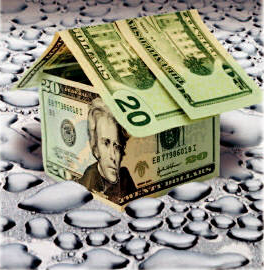 Are you going to wait until it's too late or are you going to take action NOW?
So many people I talk to are crying and in desperate need of a way out. They're trying to find a way to eat, keep their homes, and maintain basic survival. Nobody wants to be afraid and wondering if they'll make it until tomorrow. Learn some simple skills now before you drown trying to stay afloat.
I always hear the excuses, "I don't have time", and "I don't have the money to invest into myself." I'd leave the excuses behind if I were you, because you never know if another opportunity will arise.
My coach Ms. Dani Johnson grew up on welfare in a violent and drug-infested home. She was emotionally, physically, verbally and sexually abused on a regular basis. The personal trauma and violent conditions that Dani endured at home were all she knew of life. Consequently, she got pregnant at 17 and was homeless by 21. Instead of accepting what life had given her so far, Dani rewrote her own playbook, chapter by chapter – and by 23 she was a millionaire.
How does someone like Dani become successful? She choose not to rely on excuses and followed her dreams instead. Are you in the same place where Ms. Dani was? Then you're going to want to take some serious notes because I'm going to give you 9 tips that can make you or break you. The choice is yours, and you'll never be HOMELESS if you start now.
Tip 1– Go through your house and find all the things you don't need or use anymore. If you haven't touched or worn it in 3 months, get rid of it! You can sell your gently used items on eBay or Amazon. Now that the warm weather is approaching you can have a tag sale. I'm sure there are plenty of things in your home that you don't use, and you can get money for it at the same time.
Tip 2– Pay cash and cut up the credit cards. Credit cards are dangerous and they create debt. You may think you need to be building credit. But do you think successful people worry about a credit score? There are other ways to build credit other then living on plastic and robbing Peter to pay Paul!
Try tips 1 and 2 together- don't fund the new vacation, new outfit or new whatever with credit cards. Use the cash you earned when selling your gently used items to fund your new idea!
Tip 3– If you don't have the cash on you then don't buy it. You don't need everything you come in contact with. Give up your Starbucks latte or Dunkin Donuts and make coffee at home. Pack lunches, no eating out. It will not only help you save money, but you'll feel so much healthier too. If it's close enough to your house, walk. It saves money, keeps you in shape, and helps the environment.
Tip 4- Put all your single dollar bills into a jar. This will force you not only to save your coins but to save your singles as well. It adds up quick. I did this for two months and couldn't believe how much I saved. I then used this money to fund a seminar, investing in my education. You'll begin to realize how much you actually save when you use cash versus swiping a card.
Tip 5– Save all of your receipts and categorize them. This way you find out how much you're spending on certain thing. There are always areas to cut the budget when you have more pressing things in front of you. Make a spreadsheet and create a budget. You should be putting 10% of what you make in savings right off the bat. I tell people it's the 20/80 rule. I want to live on 20% of my income and save 80%. We're consumers of waste!
Tip 6– Use coupons. Those of you who don't use coupons because you're set in your ways are in the poverty mindset. Get out of your stinking thinking and start thinking like a millionaire. Millionaires keep the money they make, not waste it. Go online and use sites like www.coupons.com or coupomsuzie.com. There are sites that even have manufacturer coupons.
Tip 7 -Don't buy name brands. It's a marketing tactic. Soap is soap no matter how you look at it. You don't need to go buying organic products if you're in debt and in the hole. Grow your own fruits and veggies, it's healthier and much cheaper.
Tip 8– Stop shopping at big name stores. Save-A-Lot, Wall-mart, and Aldi's are great stores to shop at. There is no need to have a Costco and BJ's membership. Unless you have a family of 5 or more you shouldn't be spending more than $100 a week on food. If its 2-3 people no more than $45-60 max.
Tip 9– Shop at thrift and consignment stores. People are always giving away their gently used items. There is nothing wrong with wearing something gently used. Millionaires do this all the time, go ask Dani. They're all about saving their money. The same goes for car shopping, you don't need to buy the most luxurious car, with all the features. Hello, it looses 25% of its value when you drive it off the lot.
These tools and tips apply if you're unemployed and collecting unemployment, working, retired or in between jobs. It doesn't matter where you are in your career path, you can always use these tips to help improve where you're at. I'd rather have more cash in the bank then have the materialistic fancy things of this world!
Sincerer,
Courtney Taylor
YOU MAY ENJOY THESE POSTS AS WELL ...